© By Margaret Wahlen. All Rights Reserved.
Site By: SPOON FROG graphics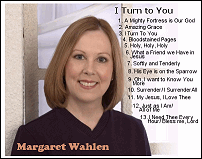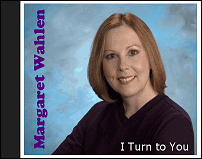 Songs:
1. A Mighty Fortress Is Our Lord
2. Amazing Grace
3. I Turn To You
4. Bloodstained Pages
5. Holy, Holy, Holy
6. What a Friend We Have in Jesus
7. Softly and Tenderly
Price includes shipping and handling. Order online using any credit card or checking account through the completely safe and secure PayPal system.

8. His Eye is on the Sparrow
9. Oh, I Want to Know you More
10. Surrender/I Surrender All
11. My Jesus, I Love Thee
12. Just as I am/ All of Me
13. I Need Thee Every Hour/
Bless Me, Lord
Price: 1 CD - $10.00
FREE SHIPPING
I T U R N T O Y O U - C H R I S T I A N M U S I C